Martin Baynton creator of WotWots, Jane and the Dragon and also the author of more than thirty children's books is talking to Berkshire Woman from New Zealand's world famous Weta Workshop about his work and his plans for the future.
BW: Many of our readers would know your WotWots from the Channel 5's 'Milkshake'. So 99 countries with WotWots is quite a number. Are you planning World domination?
MB: Oh yes! It's very exciting, everybody hopes for success but in the end its the kids who decide. And, I think the world would be a happier place if we TRULY achieved global domination by SpottyWot and DottyWot, it might not be a very efficient planet under their leadership but it would be peaceful.
BW: It is truly a great success. Could you tell us how did you come to the idea of Wot Wots? Who are they really, for you?
MB: I wanted to make a show that was not specifically for a Western audience, or any culture. So no bedrooms or toys, no streets or cars or humans of a specific ethnicity. I wanted characters who celebrated the joy of discovery and I wanted to have live drawing and to show respect and wonderment at wildlife. So those were the ingredients I wanted to package and the WotWots tapped on a window in my brain and shouted to be let out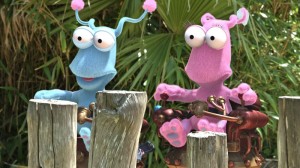 BW: Who has worked on this project with you?
MB: It's been a wonderful team of about thirty here at Weta Workshop. And I have been privileged to be able to work with my son Theo who is the shows director and my daughter Terri who wrote over half of the 76 scripts.
BW: Now Jane and the Dragon is another genius project of yours. It is book originally written by you?
MB: Yes, I wrote the original book series in the mid eighties.
BW: Tell us a bit about Jane.
MB: There were three books about Jane. She lives in a medieval castle in the kingdom of Kippernia where she was raised in the Royal Court to be a Lady In Waiting. But jane wants to train to be a knight and so really throws the social peace of the Court into confusion. But when she saves the Prince from a dragon, by befriending it, the King grants her wish. I wanted to tell a kind of modern fairy story where the girl is the master of her own destiny and change in the face of institutionalised expectations. So when we made the TV series here at Weta Workshop we set them at a time just after she has started her official training as a knight.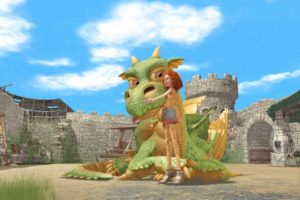 BW: You have written quite a few books. How many exactly?
MB: Its over thirty now, I've been very fortunate to have a long career in a difficult industry.
BW: Do you consider yourself primarily a children's book author?
MB: No, I think I'm a teller of tales. And I think visually so I would say I'm and illustrator first and a writer second, but both skills are about telling a narrative.
BW: What are the other projects you have worked on before?
MB: I have been an actor on TV and the stage, and have produced and written documentaries, stage plays and for the radio too.
BW: Your 'Fifty and.." series are also available. Have they been televised as Jane and the Dragon?
MB: Yes, Fifty the Tractor was very successful for me, perhaps my most successful book series. I have gathered all the rights back and am going to do 13 new books as eBooks with 7 min animations that 'live' on the final page. So children can read the book but the illustrations come alive as video clips when you tap them.
BW: Martin what are you working on at the moment?
MB: I have a new book coming out next year called dragon island which my daughter is illustrating. And we have several new TV shows in development.
BW: What are the plans for future? Anything you can reveal just for our readers first?
MB: I've just finished writing a new children's book which is scheduled for release next year, it's called Dragon Island and it's about dealing with violence, not accepting it in your life. And I've really excited because my daughter Terri has agreed to illustrate it. Terri has her own career writing and illustrating so its wonderful for me to have this chance to work with her on a project.
BW: Are you coming to Europe /UK soon? Will there be interesting things for people to see live anywhere?
MB: I come to the UK about twice a year, the next visit will probably be around April next year. There are two big events in the calendar then, MIP TV sales in Cannes and the Children's Book fair in Bologna. So I'll make sure I have a few days in England to catch up with family and friends.
BW: Anything Jane or Wot Wots would like to say to our readers before we go?
MB: The WotWots would like to thank all their UK friends for all the wonderful emails they receive on our WotWot facebook page and our Website. And we hope you all enjoy the new episodes which take place with new animals at a beach and on a small farm.
Please follow and like us: