I am probably not alone in my life-long passion for all things Design. However, I have been lucky enough to build a professional career in a subject that I truly love, both by working as in-house Design Manager for an iconic British brand and also pursuing my own interest in Interiors and Fine Art Textiles through commissions and exhibitions.

My childhood was filled with scurrilous activities such as snipping off corners of countless bed sheets when the compulsion to create the perfect mood board became too strong to resist. These early obsessions drove me to constantly draw, paint and design. The fascination and subsequent pursuit of the perfect colour, texture, or form has evolved into a way of life for me and I am delighted to be able to share it with you.
So let us get equipped with the basic tools of interior design, uncover practical budget design tips and spot trends that will inspire you with ideas to unleash your own creativity.
INTERIOR DESIGN BASICS
Design your space. Imagine your house as a totality; a series of spaces linked together by halls and stairways. Develop a common style that runs throughout. Design elements need not all be the same but they should work together and complement each other to strengthen the whole composition. Well-considered use of colour is essential to this and colour schemes are a great way to unify a collection of spaces.
Create balance. Essentially, design is about doing the right thing for the right reason. Great design is about achieving more with less, removing the unnecessary and the wasteful, resulting in elegance and simplicity. So, if it does not add anything, take it away. Use not necessarily expensive materials but appropriate materials. When designed well, balance and harmony is created in a space and there are three formal styles of balance we can work with. Symmetrical balance is usually found in traditional interiors and is characterized by the same objects repeated in the same positions on either side of a vertical axis, for example in a traditional Georgian space, where one side of a room mirrors the other. Asymmetrical balance is a more contemporary approach to design. Balance is achieved with some dissimilar objects that have equal visual weight. This approach is less contrived andcreates a casual feel in a space. Finally, Radial symmetry is when all the elements of a design are arrayed around a centre point such as a table and chairs.
Details hold the key. For me, some of the most important elements of interior design are the details. These are the flourishes that allow us to inject emotion into a space and truly personalise it. Here, individual tastes can be indulged with abandon to create a unique environment. Everything from the trimming on a lampshade, the colour of the piping on a scatter cushion, to the light switches and cupboard handles can be tailored. Details may or may not be obvious but, applied correctly, contribute to the successful execution of any design.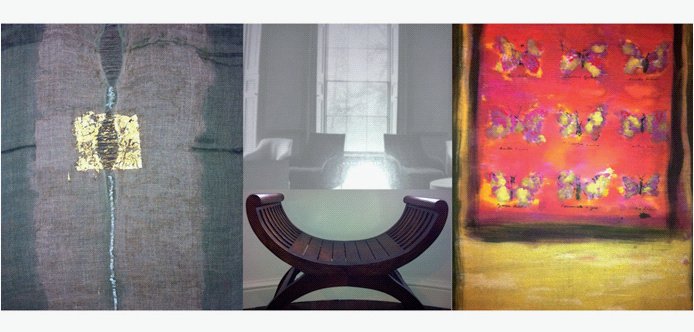 DESIGN ON A BUDGET
These times of economic crisis unleash great creativity and these simple tips can refresh any space.
Rather than rushing out to buy something new every time you want to revamp a room, work with what you've got. Re-paint cabinets, instead of replacing them. This is a simple trick and many surfaces can be improved with paint, including your floors.
There is potential in everything you already own. That nondescript kitchen dresser that suddenly takes centre stage when you wallpaper the inside with a vibrant print or those plain drawers that are instantly updated when you replace the handles with mismatched vintage ones.
Paint, wallpaper and fabric are key to unlocking a new look for every area of the home. Fabric is like paint for upholstery. Try slipcovers for fading couches, create fresh pillows, redo curtains, and get trimming with blankets, quilts and bed linens.
Utilize mirrors to create light, space and special accents. Frame one to create a mock window or place behind artistic belongings, highlighting their character from all sides. Remove curtains. If you have a nice view, maximize it by removing the window coverings. A naked window opens up the view and draws the eye to the natural beauty outside.
Hide the clutter. Nothing improves the look of a room more than neat and organized decorations. Be creative and utilize your décor as storage, with baskets, compartment benches or cabinets.
FASHION ENTERS THE HOME
Fashion has long been influencing the way in which we decorate our homes. Today, this transition is gathering speed with every season. Interior design often reflects the catwalk in terms of colour schemes, prints, materials and textures and more recently, fashion brands such as Armani, Missoni and Bulgari have played an increasingly prominent role in interiors by opening hotels.
Where once the relationship between fashion and interiors was one way only, with furniture and product designers faithfully mimicking fashion trends, it is now more interactive and fluid. Today, a hot new trend in interiors could just as likely set off a catwalk craze as the other way around.
KEY TRENDS
Pretty Pastels
As tasty as a box of Laduree macaroons, this trend reflects an eagerness amongst designers to embrace romantic feminine elegance. Use sparingly as thoughtful accents. Accenting pure brilliant white with a mixture of mauve, pistachio lemon and lilac for a clean yet pretty effect.
Birds
A perennial favourite in interiors. From original 18th century wallpapers, to contemporary replications, defining the trend for reinterpreting historical patterns with a modern vibe, there are myriad of applications possible. Perfect for use on soft furnishings that can be easily updated.
Quicksilver
Silver that has almost a liquid gloss, as fluid and transparent as water. Perfectly manifested through tiles, feature mirrors, and accent pieces. Combine with crystal elements for warmth and sparkle.
Garden florals
A contemporary take on florals. Soft watercolour blended brights, which merge to form organic petals. It's all about the lush, romantic bouquet.
Try it out and let me know how it worked for you!
(by Jagdish Sihra)
You can contact our in-house interior design specialist directly with the form below, or leave a comment, and tell us about your experiences!
Please follow and like us: